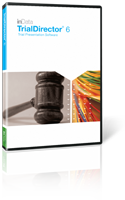 TrialDirector Features Summary
&
Transcript Management
Save and print searches
Issue-code transcripts and print associated digests
View linked exhibits
Print condensed transcripts with word index
Video Management
View video depositions of witnesses and parties
Create focused, insightful video clips for use at trial
Synchronize a video deposition to the transcript text
Generate designation reports and video clips for the court
Document Management
Pack up your entire case and then simply unpack it on your laptop for trial
Create witness and trial workbooks
Create and print exhibit/trial exhibit lists
Trial Presentation
"Tear out" a section of a document to focus the jury's attention
Present exhibits in a side-by-side comparison
Play a witness's video deposition with or without scrolling transcript text
Display a section of the transcript, to emphasize contradictory deposition testimony
Overlay exhibits – great for comparing authenticity of a signature
TrialDirector for iPad
Want to present your prepared case exhibits and video clips from the iPad? TrialDirector users can now transfer their case materials to the TrialDirector app and access the same organization, folders and workbooks as originally prepared in TrialDirector.
TrialDirector for iPad includes basic presentation tools such as:
Callouts/Zoom
Freehand writing
Highlight and redaction
Laser pointer
Freeform drawing on a virtual whiteboard
A variety of shapes, lines and drawing tools
You can also:
Bookmark your exhibits for quicker access
Present two exhibits side-by-side
Freeze the external display while you prepare the next exhibit
Present wirelessly using AirPlay Mirroring and AppleTV.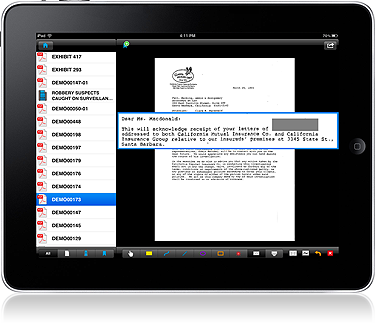 For more information about TrialDirector for iPad or to get�your FREE download, visit the app store today.